Continuing our look at prospects considered the most likely to be selected by the Redskins with the fourth overall pick in next month's
NFL Draft
, today we turn out attention away from the glamorous, high-profile quarterback position to the blue-collar, concrete-and-steel position of offensive left tackle.
Below you will find biographical data, scouting reports, draft projections, rankings and videos on
Oklahoma St. LT Russell Okung
.
Those hearty enough to wade through to the end will find my quick take on the player himself and, on the premise that they will use and not trade their top pick, my thoughts on whether or not the Redskins will and/or should draft him.
Bon appetit.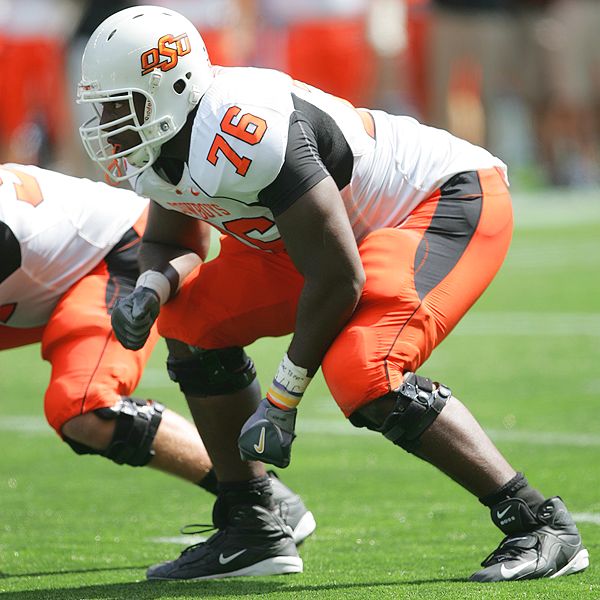 Height: 6-5
Weight: 305
Born: 10/7/87
College: Oklahoma St.
High School: Hope (TX)
BIOGRAPHY
Russell Okung (born October 7, 1987 in Fort Bend, Texas) is an American football offensive tackle for the Oklahoma State Cowboys. He is considered one of the best prospects available for the 2010 NFL Draft ...
College career

As a true freshman, Okung moved into the starting lineup for the first time against Kansas and held the position of right tackle for the rest of the season (eight straight starts). He ended the season by being voted as a member of All-Big 12 freshman team (by The Sporting News) and was named the Dick Bogert Award winner as Oklahoma State's top freshman.

In his sophomore season he started all thirteen games. The Cowboys' offensive line gave up just five sacks in eight Big 12 games to lead the league in that category. Okung earned honorable mention all-Big 12 honors (by coaches). He was also named to the Rivals.com all-bowl team after holding Indiana's Greg Middleton, the NCAA's sack leader, without a tackle in the 2007 Insight Bowl victory.

As a junior, Okung led Oklahoma State with 71 knockdown blocks, and was named a first-team all-conference selection by the coaches. He also was named to Pro Football Weekly′s 2008 All-America team. Okung currently has started 34 straight games for the longest active streak on the team.

In 2009, Okung was listed at No. 1 on Rivals.com′s preseason offensive tackle power ranking. He was also named to the 2009 Outland Trophy watch list.[10] On October 14, 2009, Okung was named one of twelve semifinalists—and the only offensive lineman—for the Lombardi Award. He was also named to The Sporting News midseason college football All-American team.

In a game against Texas A&M on October 10, Okung held the current NCAA sack leader, Von Miller, without a quarterback sack. That effort was the second time during his career he has not allowed a sack against the nation's leader at the time. Against Texas on October 31, Okung held the Longhorn pass rush, including All-American candidate Sergio Kindle, without a quarterback sack. According to Sports Illustrated's Tony Pauline, that performance "has solidified his projection as the top senior tackle" in the 2010 NFL Draft. On November 24, 2009, Okung was named one of three finalists for the 2009 Outland Trophy, alongside Mike Iupati and Ndamukong Suh.

On December 1, 2009, Okung was named Big 12 Offensive Lineman of the Year in a vote of the league's coaches.[15] He also received unanimous 2009 All-American honors. Despite tweaking his knee in practice earlier that week, Okung played in the 2010 Cotton Bowl Classic to end his career at Oklahoma State with a streak of 47 straight starts.
SCOUTING REPORTS
Redskins DE/LB Brian Orakpo
"He's a Big 12 guy, man, a lot of Big 12 guys are really good," Orakpo said. "I've got a lot of respect for him. Me and him, we had a good battle my senior year. He's a guy that's got great feet.

"Very strong, very athletic for a tackle, and whoever picks him up got a hell of a player. I know what type of player he is, and he brings a lot to the table as far as stopping those big-play pass rushers.
CBS Sports
On a day when several high profile players struggled during Pro Days, Oklahoma State offensive tackle Russell Okung was characterized as having an "excellent" workout that will certainly solidify his stock as a likely top ten pick. Okung's impressive performance was not a surprise to scouts in attendance. After all, the All-American has a history of stepping up his performance in critical situations and gave up only one sack last season. Okung did not do all of the timed drills, as he completed many of these at the Combine. However, a pulled groin halfway through his workout in Indianapolis kept him out of the vertical and broad jump, the short shuttle and 3-cone drill. He did complete these drills in Stillwater today, though his results in these drills were not immediately known. It was the positional drills, however, that left scouts so impressed. According to those in attendance, Okung was smooth and balanced during pass blocking drills, showing a deep kick-step and a forceful upper body when punching the bag. Unlike some prospects, whose workouts and game film don't necessarily jive, Okung's performance was indicative of the athleticism and physicality with which he plays. Okung was certainly the headliner today...
Walter Football
Strengths: Very good height with long arms; Thick, strong lower body; Extremely high level of athleticism; Patient pass protector; does not overextend; Great lateral agility; Quick kick step; Consistent footwork; Nice ankle/knee flexion; Surprisingly physical run blocker; Light on his feet; Highly experienced since true freshman year; Very durable - 34 straight starts; Understands angles; Recognizes stunts and blitz assignments; Gets to second level; Leader; Tremendous upside; Week 1 starting left tackle; Franchise player; Potential No. 1 overall pick.

Weaknesses: Occasionally gets too high in his stance; Needs to gain a little more upper body strength; Sometimes loses focus (bored with competition?) Can be inconsistent with leverage; Room to improve hand punch; Must redirect at a higher level in NFL.

Summary: I noticed Okung last summer when watching tape on Brandon Pettigrew and I pegged him as a potential star in 2008. He has all the makings of a Pro Bowl-caliber left tackle and has the upside to potentially warrant a No. 1 overall pick. If he can hone his technique slightly over the summer, I would be shocked to see him fall out of the first five picks next year barring injury. Okung has practically everything you look for in an offensive tackle. Last name pronounced OH-KOONG.

Player Comparison: Joe Thomas. Thomas and Okung have very similar frames with very good intangibles and the upside to dominate at the next level. Both had polished pass protection skills in college.
FL Draft Rivals
Okung displays good coordination and footwork in the run game and possess the length to steer defenders down the line onto slide-down blocks. He showcases good bend and natural leverage on the move, has the ability to reach defenders off his frame and to pump his legs through contact and finish blocks. He has a smooth, compact kick-step and is consistently able to reach the corner vs. speed rushers. He does a nice job extending his arms in pass protection and quickly redirecting on the counter move. Okung lacks the power to drive defenders off the ball as an in-line run blocker and allows linemen to work their way through his blocks when he doesn?t have his feet in front of him. But he?s explosive off the snap and consistently is able to get into linemen quickly and seal on contact. He showcases good hand placement and does a nice job locking out and sitting into his stance. But he isn't heavy-handed, doesn?t have the upper body to consistently stick to blocks and can be disengaged from by a powerful swat in the pass game. He relies on his lateral agility and quickness to mirror and isn?t going to engulf on contact. Okung exhibits better base strength vs. the bull-rush than given credit for, sits into his stance well, plays with a natural pad level and can anchor on contact. Overall, he possesses the length, footwork and pad level to project as a good NFL left tackle.
Draftboard Insider
Scouting Report-From a physical standpoint, Okung has that build that teams are looking for not. Less about being a big bulky road grader, and more about being tall, with long arms, athletic frame and a strong base. From a technical standpoint, Okung is an outstanding pass protector, able to set up quickly, keep his feet under him, and use a good punch to keep defenders at bay. He's got quick feet, and moves really well from side to side and while he's not a dominant player, he's really consistent. He shows good conditioning, able to play well at the ends of games just like at the start. His run blocking has improved, but it still remains to be seen if he can consistently line up and run block out of a traditional set. He's good at the second level, able to find players and engage and finish his blocks. He's an experienced player with 35+ starts in his career and hasn't missed any time with injuries and durability is huge. There's a ton of potential you can see in his game, and that alone will make him a high first round pick.

Draft Status-At this point, short of a huge jump by some other tackles, Okung is the top tackle in this draft, and on potential alone almost a sure top 5 pick. I am not sure I put him in with the top tackles from the past few drafts, but offensive tackles who are elite pass protectors are a hot commodity, and that alone will make a team like Kansas City covet him early.

Final Analysis-Okung is the best tackle in a deep, but not top heavy draft class. He's the best pass protector in the draft by a good margin, and you see flashes that he could be a really good run blocker especially in the proper system. Okung has gone against some really good rush ends, and shown that he can play with them on a regular basis. He will need to get a little stronger in his upper body, and like any elite college player, he will needs to shore up his technique to compete against elite NFL defenses, but if I'm a team picking in the top ten, and I need someone to protect my quarterbacks blind side, Okung is my guy.

Reminds me of: D'Brichashaw Ferguson, OT New York Jets-Top Tackle in a class that isn't top heavy, both credited with similar physical stature, athleticism, ability to pass protect and on upside. Ferguson has taken longer to come into his own than many would have liked, and Okung could be a 2 or 3 year project as well.
New Era Scouting
Ideal System: Man blocking scheme
Pro Potential: D'Brickashaw Ferguson

Agility - An agile player who moves well on the field. Can get to every angle and the second level. Will not struggle against speed rushers due to his ability to take smart angles.

Movement - Is not asked to pull or trap much. Plays in a man scheme where he does not come down the line often. Does show the footwork to do well in this offense. Gets to linebackers well at the second level. Moves well inside and out when mirroring. Will not be a liablity against inside blitzes. Can move to protect his gap.

Pass Blocking - Looks like an elite prospect in pass-pro. Has good height and reach. A quick bucket step. Able to kick slide to the edge quickly. Has a quick get up. Chops his feet well when mirroring pass rusher. Consistent at cutting off the edge and moving back inside to cut off spin moves. Cuts effectively and quickly. No hesitation. Doesn't have an elite punch, but it does show potential. Inconsistent against power rushers at anchor. Comes out too high at times and can get blown back. Can take over a game and dominate the defense's best rusher.

Quickness - Does not have elite foot speed compared to previous top prospects. Does have great size and athleticism.

Run Blocking - Is a much better pass blocker than run blocker. Falls in to bad habits of leaning forward and lunging at defenders. Needs more balance. Is not strong or menacing as a drive blocker. Looks for kill shot too often. Does move his legs well throughout contact. Doesn't quit on a play. Does a great job of engaging defender, but needs work on driving and pad height. Pushes defender will right or left to make running lanes. Uses angles more than muscle. Gets to the second level well- thanks to his agility and quickness.

Strength - Is not phenomenally strong. Needs work, but has the body type to add muscle. Is very lean at 302lbs. Will benefit from a NFL workout regiment. Shows enough strength to latch and move, but is not a drive blocker at the point of attack.

Technique - Comes out too high at times in pass-pro and run blocking. Leans over his knees too often. Is not a puncher, but can dominate in close quarters or when latched on to the defender. A beautiful kick slide and bucket step.

Versatility - Is somewhat one-dimensional and can be viewed as a finesse player. Shows some intrigue as a guard prospect, but may not be strong enough for the position. Is strictly a blind-side protector.
Mocking the Draft
Positives: In pass blocking, Okung displays a great initial kick slide off the snap. Moves back inside nicely to neutralize spin moves. Seems to be an intelligent player who shows good blitz recognition and is awareness against stunts.

Has shown the ability to shutdown an opponent's best pass rushers -- see 2009 Texas game. Properly uses his length to create space. Handles strong pass rushers really well.

He's a powerful player who really uses his legs well to drive defenders backward. His strength is ready for the next level, evident in his ability to move defenders down the line on running plays. He also displays good tenacity to snap off a punch and also finish off his blocks.

Clearly his durability is a big plus and he doesn't appear to wear down late in games and has had few injury issues. He's also developed into a leader for the Cowboys' high-octane offense.

Negatives: When Okung has to move around on the second level he looks a little heavy footed and has some trouble locking on a moving target.

Where he falters from time to time in pass protection is his second and third steps. He'll often short step instead of slide step. This allows quicker defensive ends who understand proper technique to get under his pads around the edge. He has the athleticism, however, to remedy this problem.

Where he needs to improve the most in pass protection is his stance. He'll get too high and lose lose leverage. This is mostly a product of standing up off the snap in Oklahoma State's spread offense. Still, it's an issue that will have to be worked on.

One of the things that you can question right now about Okung is his size. Billed at 6-foot-6 and 305 pounds, Okung doesn't look quite that tall and his appears don't look especially long. However, this is somewhat impossible to determine until he gets checked out at the NFL Scouting Combine. His frame, though, looks to be quite filled out.

Final word: Over his career, Okung has developed into the best offensive tackle in college football. He has the kind of athleticism required of a blind-side blocker in the NFL. His pass protection is very good and once he learns better leverage he can become a Pro Bowl-level left tackle.

Playing in 874 snaps as a junior, he led the Cowboys with 27 "dominating blocks," many of which came in the run game.

Compares favorably to Broncos left tackle Ryan Clady. Okung is clearly a top 10 talent and it seems likely he'll be drafted higher.
FF Toolbox
It only took a few games into Russell Okung's career at Oklahoma State before he stepped into a starting role. Four years later and he has not given it up. In 2006 Okung came off the bench early in the year, but ended up starting the last eight games of the season at right tackle. By 2007, Okung was dominating. The Cowboys ranked eighth in the nation in rushing that season and only gave up five sacks against Big 12 opponents. Okung ended that season shutting down Greg Middleton--who led the nation in sacks in 2007--in the Insight Bowl.

That success at the end of 2007 quickly turned Okung into one of the nation's top offensive lineman, and he has been on the national radar ever since. Once again in 2008 the OSU offensive line rarely gave up sacks and paved the way for a decent running game. The success in 2009 has continued. The running game is a little worse this year due to an injury to Kendall Hunter, but that is not the line's fault.

Okung should be one of the first offensive tackles taken in the draft and that makes him a candidate to be the first overall selection. Obviously it will depend on the team that ends up with the first pick, but if Okung can beat out in-state rival Trent Williams and other tackles like Ciron Black out of LSU, he very well could be the first overall selection.

2/15 Update: Right now Okung is the best offensive tackle in this class. Williams and Iowa's Bryan Bulaga are closing in, but the honor of being the first offensive tackle chosen is still his to lose. While it looks unlikely that Okung will be the first overall pick to St. Louis (since defensive tackles Ndamukong Suh and Gerald McCoy are such hot commodities), but he could still move up to the top with more good workouts, and perhaps some bad workouts by others.
Optimum Scouting
Offensive tackles have become almost as important as quarterbacks in the NFL draft in recent years. Guys like Joe Thomas, Jake Long, and Jason Smith have been top 5 picks in the past three years, and those three are one of, if not the, staple of the offense. Russell Okung has that type of dominating skill set.

What first jumps out to me as a I watch Okung is that he's built very well and defenders are almost scared to power rush. While that won't be the case in the pros, he has the size and strength and balance when pass blocking to play the left tackle position. And even though he can handle the power rush well, he moves very well laterally in his slide blocking and uses his hands well to delay the pass rusher, even blitzers. Okung also really explodes off the ball and in run blocking, is usually the first to engage, giving him that extra push.

He explodes his arms and against a weaker end or linebacker in the running game usually gets pancaked. The main weakness I see in Okung's game, however, is his in ability to lock on in space. Granted he won't be in space that much in the pros, but when he did pull in the games I watched, he has trouble setting his feet and engaging in space. Okung is a very well-balanced blocker that is a definite Top 5 backside protector in the NFL. Reminds me of a more consistent version of last years 1st rounder Michael Oher, Okung should be destined for a Top 5 selection in the 2010 draft.
If you're into tracking exactly who is projecting who go to where, grab a couple aspirin for afterward and dive into the
Mock Draft Database
universe:
Walter Football
(398 mocks)
DC Pro Sports Report
(380 mocks)
HailRedkins
(179 mocks)
As to where Okung ranks in this year's offensive tackle class:
Walter Football
Draft Countdown
Scout (Fox Sports)
CBS Sports
VIDEOS
Youtube "Russell Okung" Index
vs HOUSTON 2009
vs GEORGIA 2009
My Take
We have been spoiled as fans in Washington. From
Joe Jacoby
to
Jim Lachey
to
Chris Samuels
, we have had the luxury of knowing there is an anchor protecting the quarterback's blind side for a generation.
With Samuels' retirement this spring, that is no longer the case.
The Redskins need a left tackle. The question for today is whether or not Okung should be that man, at the cost of the #4 overall pick in the NFL Draft.
There are compelling arguments to say yes, among them:
• Without stability at left tackle, modern NFL offenses struggle to operate.
• The Redskins have no clear starter at that position on their current roster.
• Okung is universally hailed as the
top LT prospect
in the 2010 draft.
No brainer, right?
Not necessarily, because there remain legitimate questions as well:
• Is being the top prospect in a given class enough to justify a pick at #4? Is Okung a lock to become a perennial Pro Bowler,
a la
Anthony Munoz
or
Jonathan Ogden
? Or is he just another guy taken high in the draft due to the relative strength of the class he came out with, like the Redskins own
Mike Williams
, also taken with the number four overall pick as recently as 2002?
• Is it wise for a team with no starting quarterback to use the fourth overall pick on a lineman? I will not waste your time or mine today making the argument for rating QB higher than a LT on the value/need meter. Simply put, everything else being equal, you
always
place a higher value on quarterback.
The question the Redskins need to answer is a simple one: is Russell Okung a strong enough prospect, regardless of ranking in
this year's draft class
, to justify taking him over a quarterback if they decide
Jimmy Clausen
or
Sam Bradford
(should he fall) are prospects capable of solidifying the position for the next ten years?
To me, Okung looks to be a very solid prospect. I am not convinced he is an
elite
prospect. If he is the pick in April I will not be disappointed—I will sleep better at night knowing that whoever ends up taking snaps for the Redskins for the next few years will adequately protected from blind-side mayhem.
But I won't be jumping up and down. I am no NFL scout, but based on what I have seen, I do not believe we are looking at a dominant, elite left tackle. He may be Chris Samuels, however, and given the vaccuum at the position at the moment, that would be a most welcome development.
It
would
leave a gaping hole at the single most important position in professional sports, however, meaning I would immediately turn my attention to Round Two and beyond, hoping against hope that the Redskins either know something we don't and are confident they can land their future starting quarterback later in the day (
Tebow
,
LeFevour
,
McCoy
...?),
or
that incumbent (restricted free agent) Jason Campbell will be re-signed and turn out to be a West Coast Offense-style quarterback after all.
If you're starved at both positions, have a pick as high as number four overall, and opt to take a lineman over a quarterback ... you better have real doubts about the latter, and be damned sure the former is not just the best available, but unqualifiedly elite as well.