Fans of the Washington Redskins have seen the 76-yard, game clinching Robert Griffin III touchdown gallop against the Vikings last Sunday dozens of times by now. And that is as it should be—the play is already ingrained in Redskins lore.
Here, enjoy it again.
What I want to call attention to, before the team rides that wave off to New York for a chance to measure themselves against the defending champion Giants, is a play that many watching the game, if not most, will have barely noticed at the time. And that I'd wager many of those who did notice have already relegated to the cerebral archives given what happened later that day.
If I might set the stage...
It's the middle of the second quarter. The Redskins have been taking punches since the opening kickoff and trail Minnesota 9-3. It could be much worse. The Vikings offense has been moving the ball at will but thus far been unable to punch it into the endzone, having to settle for three field goals. Good thing too, because at 21-3, or even 17-3, the game has an entirely different feel at this point.
The Redskins offense has finally gotten off the schneid, putting together a drive in their previous possession but having been forced to settle for three points of their own on a 50-yard field goal by new kicker (and
budding legend
) Kai Forbath.
They get a defensive stop and get the ball back deep in their own end. The Redskins are penalized for holding on an apparent first down completion from Griffin to TE Fred Davis out over the 20, and face a 2nd-and-13 from their own 7-yard line.
Griffin drops back from under center, briefly turning his back on the line of scrimmage. Behind him, Viking DE Jared Allen comes clean and bears down on Griffin as he starts to come around. As the rookie turns back to face the field, he's one yard deep in his own end zone. Allen is two paces away to his left and charging.
Freeze frame.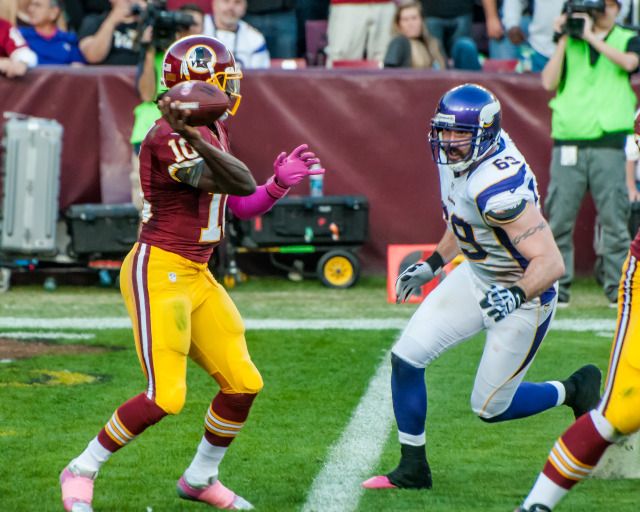 This is where the Redskins of the past generation stumble. Or worse. They get sacked for a safety ... sacked for a fumble and defensive touchdown ... throw wildly and get intercepted ... get called for intentional grounding. You know, something not good. You can see it quite readily in your minds eye, if you're the masochistic sort.
Instead, the young quarterback, still on his heels, spots RB Alfred Morris at the 5-yard line and snaps off a sidearm bullet that hits Morris between the numbers. Morris catches the pass and bulls forward to the 16. Griffin takes a pop from Allen a split second after delivering the ball and gets dumped on his arse.
He sits up, shakes it off, rises and walks calmly to the huddle.
No turnover, no penalty, no incompletion. Just cold execution. And instead of facing 3rd-and-potential disaster, the Redskins face a makeable 3rd-and-five, well out from under the shadow of their goal posts.
On the next play RG3 calmly stands in a collapsing pocket and finds WR Santana Moss between two defenders for a six yard gain and a first down. The Redskins proceed from there on an 11-play, 90 yard touchdown drive to take the lead and turn the game around.
No, I haven't put a stopwatch on the play, but it's not about however many tenths of a second it took for him to make that play. It's about a Read/React/Execute Algorithm that is simply off the charts. Particularly if those charts happen to track quarterback play in the nation's capital. Think about it. Rex Grossman sure doesn't make that play. Neither do Jason Campbell, Mark Brunnel, Patrick Ramsey, Brad Johnson or any other of the loooong list of names who have started at quarterback for this team over the last 20 years.
But Griffin makes the play. Not only does he not make a
negative
play, he turns it into a positive that, arguably, is the turning point in a game the Redskins were in danger of seeing get out of hand early, not unlike what happened to them against the Cincinnati Bengals earlier this season. And he makes it looks so routine announcer Dick Stockton's voice doesn't even change making the call.
The 76-yard heroic touchdown sprint to ice the game later that evening will live on in NFL Films glory forever. But for this one longtime fan of the burgundy and gold, the seemingly routine play much earlier in the day, a play that turned potential disaster (and potential 2-4 start) into a chance for the team to find its legs, right itself and roar off to a feel-good win and 3-3 start ... is not one I shall soon forget.
Only a very special player makes that play, and makes it look that routine, all of six games into his NFL career.
Kid is the real thing.