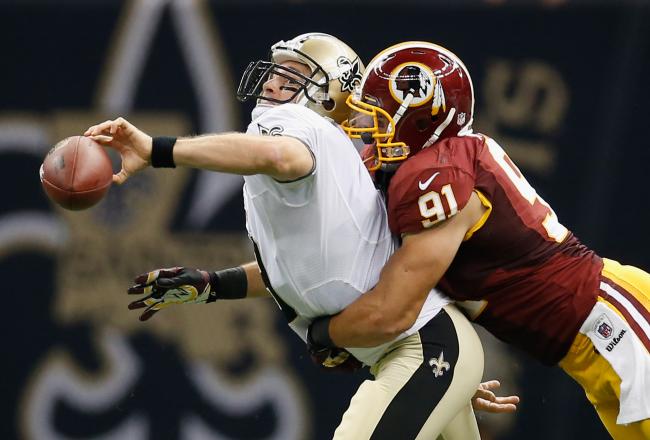 Last week I predicted that the Redskins would make a game of it Sunday in New Orleans, but in the end their defense would not be able to control the quick-release and savvy of Saints QB Drew Brees. Nothing beats being loud wrong than being loud wrong about losing.
Mr. Haslett? Well done, sir.
Some Kid Named Bob
Millions of words have been written this week about the sparkling debut of Robert Griffin, III, the Redskins instant-star rookie quarterback. "Obviously," as head coach Mike Shanahan might say, "any time a rookie quarterback makes his first NFL start, on the road against a playoff contender, and plays smart and as well as Robert did and has the best debut of any rookie quarterback in league history, you have to be happy."
By and large, talk from the media and fans alike have reflected that fuzziness. And of course there were a few obligatory "yeah but" contributions. That's what we have writers like
Sally Jenkins
for. Hard to tell if she really believed the football world needed reminding it was just one game, or simply drew the short straw when they were handing out assignments Monday at the Washington Post.
So, rather than try to find a fresh way of saying "wow," let me simply single out a piece that stood out for me. The last paragrash, in particular, succinctly puts into words my own takeaway from week one, heading into the nascent RGIII era. From
Chris Brown at Grantland
:
Griffin's advantage is that he adds an element to Shanahan's pro-style offense that can't be understated. It cannot be emphasized enough that all those supposedly "easy" passes Griffin threw early on were decisions he had to make based on how the defense played. That may be the most exciting thing about his debut. Unlike many NFL coaches whose egos and lack of creativity won't allow them to utilize their players' strengths and weaknesses, Shanahan is evolving his offense into a reflection of his young quarterback. Robert Griffin III is not a "running quarterback," but rather a quarterback who can also run; Shanahan's Redskins offense is not a college-style spread offense, but a blend of a pro-style system that also incorporates some of college football's newest and best ideas. Griffin certainly has a long way to go, but his development — and the development of this offense — will be fun to watch, unless, that is, you're the one trying to stop it.
Coaching – Gameplan Edition
Mike Shanahan and Jim Haslett had months to prepare for New Orleans. And Shanahan's NFL opening day record (15-4) speaks for itself. Week two is different. Week two settles into the "normal" preparation cycle with current game tape to study for both his own team and the upcoming opponent. St. Louis Rams head coach Jeff Fischer is no slouch–you can rest assured he will have his team ready to play, fundamentally sound, and will throw looks at the Redskins that they will not have seen before.
This will be a good early test of the 2012 Redskins' brain trust. Will their game plans prove as on-target and effective with one week to prepare? Will they succeed in keeping the young Redskins from suffering a classic "letdown" game after the emotional upset win against the Saints?
One thing about the NFL–last week is always a long time ago.
Coaching – In-Game Edition
If the Redskins succeed in building a two- or even three-possession second half lead again, will they, unlike last week, feel comfortable enough to let their rookie quarterback step on the proverbial snake's neck and finish the Rams off? Because last week, it says here, they did not.
The Saints game should never have come down to a 40-yard Drew Brees lob into the endzone from possible overtime. It should never have been that close; not with as dominant as the Redskins had been in building a 16-point lead heading into the fourth quarter. The Saints hadn't stopped the Redskins all day, nor had much luck moving the ball againt them. It all seemed to change then, in a way that felt eerily foreboding.
Judge for yourself
...
With 1:07 left in the third quarter, the Redskins led 33-17 and had just been gifted a first down at their own 30-yard line when New Orleans was flagged for offsides after apparently stopping the Redskins on 3rd-and-five. The offensive playcalling at that juncture went, in a word, conservative.
At least that's the way it felt in my living room.
I haven't read much about that angle this week, however, so I am allowing for the possibility it was my own "here we go again" fears talking, hard-earned over the past 20 years, and not an indicator that the 2012 coaching staff will be stuck in a "play not to lose" mentality when holding second half leads.
Yes, RG3 did go deep once after that. Maybe seeing that pass almost intercepted was enough to get Kyle to pull in the horns. And yes, RG3's tight pass to TE Logan Paulsen to convert a crucial late first down was a notable exception. But I am willing to bet real money I was not the only Redskins fan watching the team take the air out of the ball, and loosen up the defensive collar just a bit, and seeing the momentum predictably swing the other way the lead slowly dissipate, who suffered a few dark imagings.
Had that Brees lob as the clock expired bounced to a Saint instead of S Reed Doughty, how many among us would have believed the Redskins would stop the subsequent two-point conversion? And need I ask what we would have thought heading into overtime?
Expectations
Expectations have shifted after the Saints game, I think there is little doubt about it. How many Redskins fans out there are thinking the Redskins
shouldn't
leave St. Louis on Sunday evening undefeated?
If the Redskins beat the Rams, and RG3 continuies to impress, and the team heads into its home opener at 2-0 against a Cincinnati Bengals team that (forgive me) is at worst "beatable," even those among us who went into week one cautioning against reading too much into it, win or lose, are going to have a hard time not getting caught up in the excitement. Because even though the opener was "Game One of Year One of the New Era," as some stick-in-the-mud solemnly cautioned last week, the thought of heading into October with, say, at worst a 3-1 record ... with legitimate quarterbacking ... well, let's just leave it at that for today.
Let Youth be Served
I must have commented three or four times watching the Redskins outclass the Saints on Sunday, "
that's
one of the young guys too." Among several great impressions from game one was the overriding sense that in two years, the Washington Redskins have gone from one of oldest teams in football to one featuring youth–much of it baby-youth–contributing heavily. I jotted some names down on a piece of paper during the course of the game as those names kept coming up big at crucial times. It's not an exclusive list–feel free to throw in a guy like FB Darrell Young (25) for instance–but you get the drift:
QB Robert Griffin, III (22)
RB Alfred Morris (23)
WR Aldrick Robinson (23)
WR Pierre Garcon (26)
TE Fred Davis (26)
LT Trent Williams (24)
TE Logan Paulsen (25)
FS DeJon Gomes (24)
DE Jarvis Jenkins (24)
LB Perry Riley (24)
LB Ryan Kerrigan (24)
LB Brian Orakpo (26)
Don't get me wrong. Veterans–take a bow, LB London Fletcher (37) and K Billy Cundiff (32)–provided huge contributions too. But the
other
albatross this organization has carried for so many years–that the Washington Redskins are too old and too slow for today's NFL–has suddenly, to quote lead-eating Warden Norton, up and vanished like a fart in the wind.
Fabulous Future FedEx Field Fan Flury?
Speaking of charged air ... anyone else wondering if the thought hasn't occured to Dan Snyder that it might have been a mistake to drop seating capacity at FedEx Field by 12,000 seats? If his Redskins beat St. Louis this Sunday and come home 2-0, landing
Redskins Fedex Field tickets
to see RG3 and the burdundy and gold at home might soon become a labor of love again. RFK Stadium veterans, you know what I'm talking about.
Just food for thought.
Funny Thing One
It's not the Redskins offense I'm concerned about against the Rams. RG3 doesn't have to be Superman, he just has to continue to play smart, controlled football, and let his talent and the talent around him do their thing. They won't score 40 point every week (probably), but unless they get careless and turn the ball over several times, it's not hard to imagine them putting up mid- to high-20's on a regular basis.
This week I'm more interested in seeing if defensive coordinator Jim Haslett can follow up on last week's sterling effort, and his defense can turn in another solid across-the-board performance. With the
offensive line problems
the Rams are facing, logic suggests the Redskins front seven "should" be able to control the line of scrimmage, and keep QB Sam Bradford and stud RB Stephen Jackson from going off. To me this is the single biggest key to the game.
Funny Thing Two
Thing two goes back to what I wrote above–a killer instinct. Even amidst the sweet, smoky afterglow of opening day victory, I cannot quite shake the feeling I had, and suspect many of us had, at the end of the Sainst game. As Drew Brees and Co. roared back from dead-in-the-water to within one tipped ball of probable overtime, I'm guessing Redskins Nation was holding its' collective breath and trying NOT to think, "we've seen this movie before."
No, it wasn't the old "prevent defense." But it felt like it. It looked like it. Was it percentage football? Perhaps. Was it damned hard to watch, with all the weight of recent history pressing down? Oh yeah. Close the deal, Messrs. Shanahan and Haslett. Please.
It's 2012. It's a new day.
Go for the kill.
Redskins 29, Rams 23